Frequently Asked Questions
What kind of accommodation is offered?
You will stay in a fully equipped 5 persons mobile home. The restaurant is at the same address and there is also a swimming-pool and laundry service. The center of Saint Germain Les Belles is only 5 minutes away.
Am I sharing a room?
You are. If you are the only rider or you don't want to share a room, you have to pay a single riders supplement.
Which language is spoken?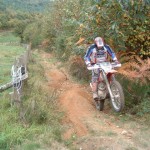 French, English, Dutch and German
What is in- and excluded?
Included: use of the bike, fuel, guides and follow-up assistance, all safety and protective clothing, third party insurance, B&B with breakfast and evening meals. Not included: lunch, drinks, travel- and other personal insurances.
Do I need to bring equipment?
No. Dirt Tracks offers everything (helmets, boots, trousers, shirts, jackets, gloves, bodyprotection).
What extra costs can I expect?
Lunch is € 10 to € 15. The rest depends on how much you want to drink after riding and other activities you want to do.
Do I need to perform maintenance on the bike?
No. Martin and André will do that.
What about insurances?
We have third party insurance for our clients. You need to take care of the other insurances, like travel insurance and health insurance.
What kind of bike will I be riding?
Who are our guides?
Martin rides in front and André rides at the back. With the two of them they can keep an eye on what is happening and give you tips or instructions. There is follow-up assistance for fuel and maintenance.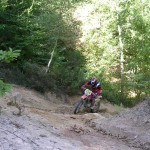 What if I get hurt?
The follow-up assistance will pick you up with the van and if necessary bring you to the doctor or hospital.
What other activities are there?
There is a pub in the village and a swimming lake 10 minutes walk from the B&B. There is a lot to do and nice places to visit in the Limousin. There is a tourist office in the village.
Can I bring my family who doesn't ride a bike?
Yes. Let us know if you want the same accommodation for your family and if you want us to arrange it. It is also possible that you have your accommodation elsewhere. The price will be adjusted.
Is a motor license obligated?
Yes. If you don't have a motor license, but you do have a valid car license, we can offer you our 125 cc which you are allowed to ride in France.